During the last two weeks of October, we set our focus here:
"You are the light of the world. A city set on a hill cannot be hidden. Nor do people light a lamp and put it under a basket, but on a stand, and it gives light to all in the house. In the same way, let your light shine before others, so that they may see your good works and give glory to your Father who is in heaven." -Matthew 5: 14 -16
Here are the "This Little Light of Mine" Days that we enjoyed this year:
Today, I'll write the verses on our whiteboard and read them to Vivienne. I'll ask her what the verses mean and how it makes her feel to be the "light of the world".
We'll look at the globe and I'll explain that when we don't know Jesus, our spiritual eyes are blind so that we live in darkness.
I'll cover the globe with black fabric and ask, "What happens in the darkness? How do you feel in the darkness?"
I'll remind her that Jesus came into the world to bring Light to us so that we can see God and we can walk in the light. "What happens in the light? How do you feel in the light?"
I'll say, "Vivienne, because you believe in Jesus, He has made you the light of the world, too. He wants you to shine for other people who are still living in the darkness so that they can see God and know Jesus, too."
"Do you know what makes us shine like a light? Let's look back at the verse: …they may see your good works and glorify your Father… Yes, it's our good works that show people the light of God."
***
At another point in the day, we used a camera to take pictures of different types of lights. We'll casually talk about how darkness represents Evil and light represents Good.
(Join us tomorrow for a blindfolded treasure hunt!)
Yesterday, at the end of everyone's driveways, the wind was blowing the trashcans back and forth, revving them up to roll right down the street. Vivienne, Lia, and I decided to put God's Word to work and pulled some trashcans and recylcing bins up to safety. The cool part is, that while we were doing it, one elderly neighbor came out to talk and invited Vivienne over to play with her tea set this week. Recently, I have felt compelled to visit these folks more often so that Vivienne can develop a deeper relationship with them; this invitation was providential!
Today's plan is to review the verse and the catechism that naturally came from it:
Q: God says that we are the light of…?
A: The World!
Q: What makes us shine?
A: Our good works that glorify our Father in Heaven!
Today's plan is to dig up one of my silk scarves, root through our hidden stash of candy, scribble out some maps, and play Treasure Hunt! Here are a couple of variations that I plan to play:
1. "In the Light" Treasure Hunt. With open eyes, a map, and plenty of motivation (did I mention the hidden candy stash??) Vivienne will enjoy finding her treasure.
2. "In the Dark" Treasure Hunt. With a blindfold covering her eyes, Vivienne will find that the map doesn't do her much good. Nor will she be able to find that treasure! (Viviations to come…)
I'll explain how the devil blinds peoples' eyes so that they can't see God or understand His Word (our "map"). "What happens in the darkness?" Then I'll explain how Jesus came to open our eyes so that we can see God. "What happens in the light? What are the treasures of life that we are looking for?"
Watch a candle flame flicker, watch the wax melt and the smoke rise. This is action.
Watch an unlit candle sit, useless and inactive.
God has made us flickering, living lights! We are to be active lights, shining through our good works.
What are good works?
Why do we do good works?
What is one good work we can do today to show someone God more clearly?
Let's get to it! God, be glorified in our good works today.
This afternoon, we made a paper candle with construction paper and a toilet paper roll (modify this template). We set it by Vivienne's bed so that she can remember the verses when she wakes up and when she goes to sleep.
Yesterday, when we compared a lit and an unlit candle, we went one step further and covered the lit candle with a metal bowl. The light disappeared; the candle went out. A light cannot and should not be hidden. We might repeat that powerful visual lesson and talk about some of things that might try to hide our light. When we hang her candle by her bed, we'll pray for each other to be lights that glorify God.
Over the weekend, we'll keep talking about the verses and looking for ways to do good works that glorify God. Check back in on Monday for more lesson ideas! In the meantime, let your light shine!
It might be cold outside today, but we'll be nice and warm inside as we sing and dance!
I'm hunting down all of the songs I have that refer to "the light"… "This Little Light of Mine", "Marvelous Light", "Carry Your Candle", Steve Green's version of Matthew 5: 14 – 16…
With Lia playing the egg shaker, Vivienne running around the room with a gold scarf, and me counting on this being my exercise and my musical worship for the day, we all should have a swinging time.
We'll also start planning our "Day of Light" for October 31st. We'll plan on blessing about five different people throughout the day… I'll let you know what we come up with.
Today, I helped Vivienne teach Lia and the dolls what she has learned about our verses. (I took this picture on the sly so that the girls don't feel like they grew up with the paparazzi.)
Tonight is PUMPKIN CARVIN' NIGHT! Check out this adorable lesson I found to go along with the awkward knife action, the goopy seeds, and the stem-hat:
"Sometimes people ask what it is like being a Christian.
I'd like to tell you that it is all fun and easy.
But I'm a Christian. I'm supposed to tell the whole truth. So here it is.
It is fun to be a Christian because I am God's child and God loves me.
And it is never too hard for me because God helps me.
But sometimes it is pretty hard to be a Christian.
I think I can use this pumpkin to help explain.
We all start out like pumpkins. We're out in the garden along with all the others.
God is always walking through that garden asking if any of us what to belong to Him.
When we say 'yes' to God, he picks us up out of the garden.  And he forgives our sins (Use damp cloth to clean the dirt off the pumpkin.) .
That feels really, really nice.
(Pick up the knife) But there is more to be done.
You see, dirt was not the only thing we brought with us from the garden.
(cut around the top of the pumpkin) Some of what we brought back requires surgery and that can hurt.
(Lift off the top.)While we were out there in the garden, some things grew inside us.
(Take out a few seeds  and pulp and hold them out to be seen.)
Sometimes other people were not fair to us and we became angry and the seed of bitterness started to grow inside. (Take out more of the pulp and seeds.)
(Continue to take out seeds and pulp as you talk) Sometimes others let us down or hurt our feelings.
We began to feel sorry for ourselves. And the seeds of rejection started to grow.
We try to get even with those who hurt us. The seeds of unforgiveness and violence begin to grow inside.
(Finish cleaning out the pumpkin) Yes, all of this cleaning up hurts a bit.  But if we won't let God clean all of this out, it gets infected. And then we really have problems.
Christians who won't let God clean out all the junk are really miserable.  They have spiritual infections and they can spread them to others. (Wipe the inside with the cloth)
I'm learning to hold really still and let God take care of anything that needs to be cleaned!
And anything that needs to be changed. (Make a few cuts with the knife on your side of the pumpkin) Sure it hurts sometimes.
And sometimes I wonder what God is trying to do!
(Finish carving the pumpkin)
Then God reminds me that He has a wonderful plan for my life. He wants the beauty of Jesus to shine through me so others can see the way to Jesus. (Place a candle inside the pumpkin and light it.)
That's what we are, you know.  We are not really better than those poor pumpkins who are still in the garden.  We are just a whole lot better off because Jesus has taken us out of the darkness and into His wonderful light.
(Turn the lights off)
Jesus said, "You are the light of the world.
A city on a hill can't be hidden.
Also, people do not light a lamp and put it under a bowl.
Instead, they put it on its stand.
Then it gives light to everyone in the house.
In the same way, let your light shine in front of others.
Then they will see the good things you do.
And they will praise your Father who is in heaven."
As you know, there is much to pray about.  Today, we will join Shirley Dobson and the National Day of Prayer to talk to God about our country and our hearts. Join the nation in prayer from 12 – 12:30 today. I appreciate Billy Graham's recent prayer about this election:
'Heavenly Father, we come before you today to ask your forgiveness and to
seek your direction and guidance.  We know Your Word says, 'Woe to those who
call evil good,' but that is exactly what we have done.  We have lost our
spiritual equilibrium and reversed our values.  We have exploited the poor and
called it the lottery.  We have rewarded laziness and called it welfare.  We
have killed our unborn and called it choice.  We have shot abortionists and
called it justifiable.  We have neglected to discipline our children and called
it building self esteem.  We have abused power and called it politics.  We have coveted our neighbor's possessions and called it ambition.  We have polluted the air with profanity and pornography and called it freedom of expression.  We have ridiculed the time-honored values of our forefathers and called it enlightenment.
Search us, Oh God, and know our hearts today; cleanse us from every sin and set us free.
Amen!'
Today was our GOOD WORKS OF LIGHT EXTRAVAGANZA!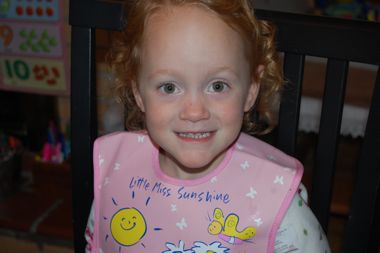 What fun we had, making a surprise poster for our neighbors, delivering cookies, visiting a little friend who will be moving away soon, collecting sticks for our neighbors, and dressing up as little princesses!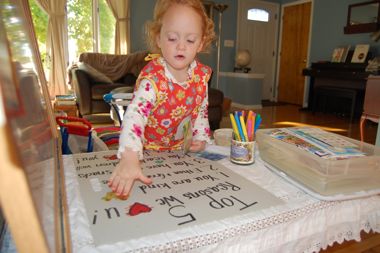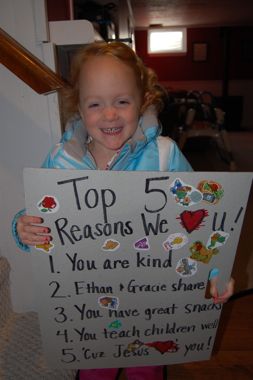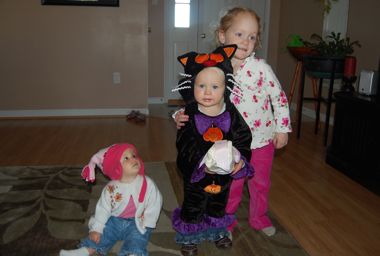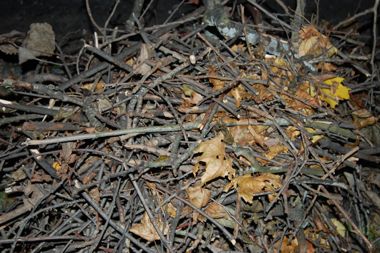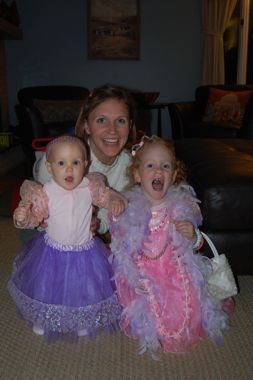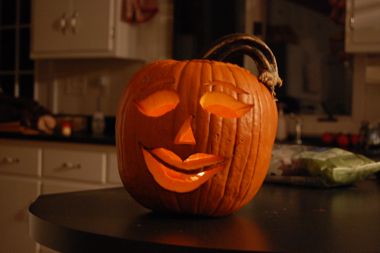 (Even our pumpkin is a princess this year! Her name is Pearl.)
This marks the last of my posts about Matthew 5: 14-16 for now. On Tuesday, we'll deliver a treat to the poll workers when we vote… and we'll be praying our hearts out 'til then. Remember, let your light shine so that people will see your good works and glorify your Father in Heaven.